About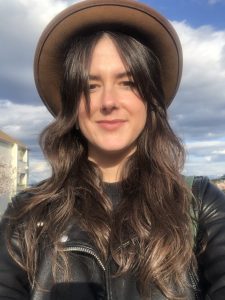 Danielle Blackwell is a multimedia artist and designer. Danielle has studied with the Apparel Design program at Seattle Central Community College and Cornish College of Fine Art. While at Cornish, she studied sculpture, costume design, stage design, life drawing, video and photography. Danielle has apprenticed with Mark Mitchell, Designer for, 'BURIAL DESIGNS', who's solo exhibit debuted at the FRY Museum in Seattle 2013-2014. While working with Mitchell, she enjoyed the opportunity to Co- create work for Shabazz Palaces, Cherdonna Shinatra for their show, 'WORTH MY SALT'. She also took part in the production team for Intiman Theatre's production of,  'ANGELS IN AMERICA', during her time with Mitchell. Danielle has studyed oil painting with international fine painter and muralist, Crystal Barbre. In 2012 her costumes designed for The Maureen Whiting Dance Co. Show, 'BELLY', We're on loan to be photographed by Fiona Pepe and went on to be shown in Z!NK magazine of that year. In 2011 she designed work for The Offshore Project that made it to the A.W.A.R.D. SHOWCASE at On The Boards in Seattle. 
Danielle created some of her most pioneering and sculptural designs to date for the Maureen Whiting dance company's production, "The Burden of Joy'. This production is currently growing with more momentum through to 2020/2021 with the addition of brilliant composer, Michael Zapruder and powerfully emotive movement now added by dancer, Valencia James. The next showing of this work in progress is set for April 2022 in Seattle WA. 
For Danielle's early years she was immersed in travel. She was born in Michigan and moved with her family to Turkey while her father was stationed there during his service in the Air Force. Her family lived in Turkey for about two years until returning to the states, landing in Texas followed by Indiana and landing for the bulk of adolescence in Wisconsin. Throughout her childhood there was always this, influence with her Mother sharing her love for a wide variety of movies and musicals. From sharing this love of entertainment she deriving inspiration to use her imagination and her hands to manifest herself closer to these amazing realities not readily visible to her. Her Mother was a great inspiration in not accepting your current perceived limitations and in by harnessing the power of your imagination, you can transform raw materials into anything. 
Danielle's Art is always evolving and draws on an unending love for learning through new mediums and experiences. She anchors much of her explorations in expressing through garments and manipulating the human form. Her work currently has been growing steadily towards, sculpture for the body. She has a deep passion for emoting through form in this way and in cultivating more unique experiences to engage audiences with transformative perceptions of self and the world as a collective. 
Danielle maintains ongoing collaboration with the Maureen Whiting Dance Co., The Offshore Project, HYPERNOVA, Peggy Piacenza, Ezra Dickinson and Paige Barnes. Her work explores collaborations and solo work  in costume design, fiber art, sculpture, textiles, digital art, painting and illustration. Danielle is passionate about creating and always welcoming new collaborators!
Selected Past Works
Assistant Director and Costume Designer for Psychic Radio Star by Ezra Dickinson
Costume Design and Dramaturge for Burden of Joy by Choreographer Maureen Whiting, MoCo
Costume Design and Dramaturge for Belly by Choreographer Maureen Whiting Dance Company
Costume Design for The Event by Choreographer Peggy Piacenza
Designer for Art Zone's, Nancy Guppy on SIFF's Red Carpet Event 
Contact Danielle
Tell me about your atistic vision and design challenges and I'll tell you how I can help.
Email Danielle Today
+01 206 919 5974